Description
Our Anti-cellulite body oil is a unique blend that reduces fat cells that appear as cellulite in the hips, legs ,thighs and abdomen .
It improves blood circulation and stimulates lymphatic system.
We created a lightweight formula that absorbs quickly to lock in moisture, enhances lipid metabolism and blood circulation .
Our Anti-cellulite body oil is easily spread & non-oily touch .
In Japan they nourish their skin with oils.
The women who use oils are renowned for having radiant skin.
The oils are rich in vitamins, as well as nourishing omegas. They are also packed with antioxidants.
INGREDIENTS AND PROPERTIES
Coffee been oil helps with the break down fat and smooths puffy areas of skin. It is readily absorbing by the skin and it is an extremely light and silky feel.
Our anti-cellulite oil contains ivy oil that is an excellent vegetable oil for cellulite treatment as it provides blood circulation stimulation.
Camellia seed oil reducing the look of cellulite, stretch marks, wrinkles, and loose skin.
Cedar wood essential oil reduces fat deposits, improves circulation and tightens skin.
 Rosemary essential oil and its stimulating and circulation boosting properties.
Orange essential oil, orange peel contains bioflavonoids, which are anti-cellulite .
KEY INGREDIENTS
Coffee been oil
Ivy oil
Camellia seed oil
Essential oil cedar wood | rosemary | orange
INGREDIENTS
Cetiol cc , Fractionated coconut oil ,Ivy oil, Coffee been oil, Camellia seed oil,
Vitamin E, e.o cedarwood, e.o rosemary, e.o orange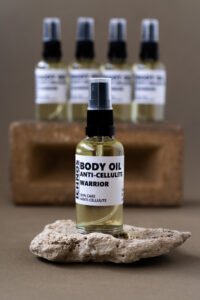 USE 
Body skin care .
All skin types .
HOW TO USE
Shake before use .
Massage well onto the thighs, buttocks, and any other regions affected by cellulite and leave on for maximum absorption.
Combining it with our cellulite soap may reduce its appearance .
Watching as areas of insecurity smoothed out beautifully and regained lost elasticity .
Βefore the first use, we recommend to try it on a small area of ​​your skin, for any possible allergies .
At Ichnos soap we do NOT  use :
animal products
palm oil
parabens
sulfates
artificial colorants
Due to the handmade nature of our products , there may be a slight variation to the photos .
Please note that due to personal nature of our products, we are unable to accept return on orders .
We do not claim that our products have medicinal properties .
It is forbidden to replace any medical advice and treatments .