Description
Skincare's "deodorant cream floral "is free from aluminum, harsh chemicals, parabens or synthetic fragrances .
Its fine ingredients have been carefully selected to achieve a unique formula that eliminates all traces of odors.
This cream-to-powder formula is made using only natural, ethically sourced botanicals.
The natural "deodorant cream floral" balances your skin's pH, while keeping you smelling great.
It's a blend with gentle shea butter and coconut oil.
Along with rose petals essential oil and its ability to help heal and protect the surface of the skin, rose petals essential oil is a great ingredient to promote a youthful .
Jasmine essential oil has antiseptic properties that are beneficial in treating skin infections. Jasmine essential oil also has anti-inflammatory properties and can be useful in skin care .
A natural deodorant cream that smells amazing and works too .
Key Ingredients
Shea butter
Coconut oil
Essential oil rose & jasmine
INGREDIENTS
Cocos Nucifera Oil, Butyrospermum Parkii butter, Sodium hydrogen carbonate, arrowroot starch
Tocopheryl Acetate, Rosa Damascena , Jasminum Grandiflorum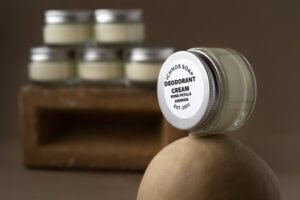 USE
Underarm area .
Suitable for all skin types, including sensitive
48 hours deodorant protection with the magic power of nature .
HOW TO USE
Apply a fingertip amount on to clean skin and gently rub it into your whole underarm area, it absorbs quickly.
Do not use on broken skin.
Note: Your underarms may require an adjustment period depending upon how sensitive your skin is.
At Ichnos soap we do NOT  use :
animal products
palm oil
parabens
sulfates
artificial colorants
Due to the handmade nature of our products there may be a slight variation to the photos .
Please note that due to personal nature of our products we are unable to accept return on orders .
We do not claim that our products have medicinal properties . It is forbidden to replace any medical advice and treatments .