Description
Our multitasking hair repair oil can moisturize and protect your hair from damage, frizz and seals split ends for a healthy and shiny finish .
Every hair type , even oily can benefit from this hair oil.
It has a lightweight formula that nourishes the hair without leaving a thick or greasy film .
The job will be done without weighing your hair down .
Hair repair oil is also good for the scalp, can help alleviate itchiness and reduce inflammation .
Your end result will be shiny, soft hair with a healthy-like finish .
It combines essential oil notes of  lavender, rosemary, cedarwood and tea tree for a woody, fresh and clean blend .
This combination is known to increase and purify circulation to the scalp, which in turn encourages new hair growth and enhances the appearance of more voluminous hair .
INGREDIENTS & PROPERTIES
Coconut oil  has hydrating and protective properties that soothe irritated skin and improve hair's appearance.
Olive oil is one of the top emollients because not only is it packed with vitamins, antioxidants, it makes for the perfect relief to a dry, itchy scalp.
Sweat almond oil is high in Vitamin E, its hydration benefits are amazing for the scalp as well . It helps prevent drying, flaking and scalp tightness, all without making the roots of hair limp and greasy.
Laurel fruit oil prevents hair loss and splitting hair ends, stimulates their growth and removes dandruff .
Jojoba oil helps soften and smoothen rough hair. Stimulates circulation in the scalp, nourishing and strengthening the hair follicles to grow .
Castor oil promoting hair growth, and nourishing dry scalp .
Vitamin E support a healthy scalp and hair .
Lavender essential oil helps promote hair growth. It has antimicrobial properties, which helps to prevent bacteria. This can be particularly helpful if you have a sensitive scalp, as it helps to prevent itchiness and dandruff.
Rosemary essential oil  is great for moisturizing the scalp .
Cedarwood essential oil and it's antibacterial and antifungal properties can help treat different dandruff and hair thinning types of woes, without feeling greasy.
KEY INGREDIENTS
Laurel fruit oil
Jojoba oil
Olive oil
Castor oil
INGREDIENTS
Caprylic | Capric Triglycerides, olive oil, laurel fruit oil, Prunus Amygdalus Dulcis Oil,
Vitis Vinifera Seed Oil , Sesamum Indicum Seed Oil, Simmondsia Chinensis Seed Oil,
Rosmarinus Officinalis, Cedrus Atlantica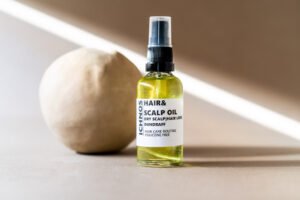 USE
Hair & scalp.
All hair types .
Especially suitable for damaged hair, itchy scalp, hair growth .
HOW TO USE
Thanks to its light texture, only a few drops of oil are required for each application. 
Apply a small amount of the oil along your hair, paying attention to the scalp as well. Apply as a mask for 10′-20′ before washing or from the night before .
Using your fingers to do a light massage on your scalp that will give a perfect result.
Then remove with washing. Τhe result will be amazing, your hair will become gently, shiny and healthy .
At Ichnos soap we do NOT use :
animal products
palm oil
parabens
sulfates
artificial colorants
Due to the handmade nature of our products, there may be a slight variation to the photos .
Please note that due to personal nature of our products, we are unable to accept return on orders .
We do not claim that our products have medicinal properties .
It is forbidden to replace any medical advice and treatments .