Description
Kansen soap has been designed for psoriasis & eczema treatment .
The ingredients help reducing the inflammation and slow the production of skin cells and reduces itching .
In Japanese kansen means psoriasis .
Japanese skincare prioritizes moisturizing and anti-inflammatory ingredients and one of them is Aloe Vera gel which is very helpful in fighting psoriasis .
Turmeric is a great warrior of psoriasis too.
ingredients & PROPERTIES
We have chosen to enrich this soap with a great amount Aloe Vera gel. It has been shown to help reduce redness and scaling associated with psoriasis . Aloe vera gel will help to rapidly rehydrate the skin and soothe any irritation. Aloe has healing properties which can accelerate healing time for cuts and sores from psoriasis .
The antioxidants and vitamins in Avocado oil may help to heal the irritated dry and flaky skin associated with psoriasis and eczema .
Coconut oil can help counter dryness caused by psoriasis by trapping moisture in the skin .
Castor oil may relieve the symptoms of dryness, itching, and swelling in people with psoriasis and reduce the appearance .
Almond oil is rich in vitamin D, vitamin E that help soothe the skin .Almond oil reduces the irritation and restores the skin's moisture barrier .
Shea butter's anti-inflammatory properties help soothe skin and relieve itching. As a result this rich butter may improves especially helpful for inflammatory skin conditions .
Turmeric is thought to have powerful anti-inflammatory abilities. That may help relieve psoriasis and eczema symptoms. Curcumin is the active ingredient in turmeric .
Chamomile is great for soothing psoriasis and eczema, thanks to its calming and antiseptic properties. Due to its antioxidant components can unify skin tone. Chamomile clearing dark spots and imperfections and adding radiance .
Clove , one of nature's best inflammation fighter, can help ease your psoriatic arthritis symptoms.
Scented with Lavender essential oil .
Lavender essential oil can be used to treat psoriasis.
The lavender essential oil helps cleanse your skin and lessen redness and irritation.
KEY INGREDIENTS
Avocado oil
Aloe gel
Turmeric
Chamomile
INGREDIENTS
Persea Gratissima Oil, Cocos Nucifera Oil , Butyrospermum Parkii Butter
Prunus Amygdalus Dulcis Oil, Ricinus Communis Seed Oil, Aloe Barbadensis Leaf Juice, Carbomer,
Dmdh Hydantoin, Diazolidinyl Urea, Triethanolamine
,Curcurma domestica , Curcurma domestica), Syzygium aromaticum ,
sodium lactate, Lavandula Angustifolia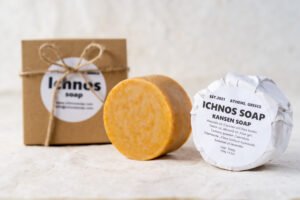 USE
Face and body .
All skin types .
Especially suitable for psoriasis and eczema treatment .
HOW TO USE
Wet your skin , massage with the soap and lather for 20 seconds.
Leave the soap on your skin at least for another 20 seconds .
Allow all the gentle ingredients to clean and nourish your skin .
Βefore the first use we recommend to try it on a small area of ​​your skin for any possible allergies .
Please avoid contact with eyes .
To extend the life of your soap keep it dry by using a draining soap dish .
At Ichnos soap we do NOT use :
animal products
palm oil
parabens
sulfates
artificial colorants
Due to the handmade nature of our products, there may be a slight variation to the photos .
Please note that due to personal nature of our products, we are unable to accept return on orders .
We do not claim that our products have medicinal properties .
It is forbidden to replace any medical advice and treatments .