Description
BODY MIST GOLD SHIMMER
In Japan the art of "listening to scent" is the most recherché of accomplishments .
Our Gold shimmer allows you to scent your body with something truly unique for yourself .
A unique blend makes this distinctive memorable ocean & exotic aroma of blue royal .
A moisturizing mist blended with fragrance oil for a gorgeous fragrance that lasts .
Our Blue royal body mist is designed to give your skin some extra golden glow .
Gold body mist is a celebration of scent .
Key INgredients
INGRENTIENTS
Deionized water, vegetable glycerol, D-panthenol, aloe barbadensis leaf juice,
blue royal fragrance,alcohol,polyacratecrosspolymer-11,mica,tridecent-9-peg-40,hydroganated castor oil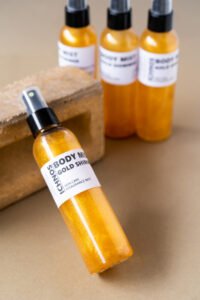 USE 
Body
HOW TO USE
Our body mist should be applied directly to the skin.
To get the most out of the light, fresh fragrance you can spray it over damp skin after a shower or bath.
Or you can apply it directly to your pulse points ,wrists, neck or behind your ears.
#tip for body mist?
Apply a scented body butter before spraying your body mist over the top to keep your scent smelling for longer.
Keep it somewhere cool and out of direct sunlight .
Βefore the first use we recommend to try it on a small area of ​​your skin for any possible allergies .
At Ichnos soap we do NOT  use :
animal products
palm oil
parabens
sulfates
artificial colorants
Due to the handmade nature of our products there may be a slight variation to the photos .
Please note that due to personal nature of our products we are unable to accept return on orders .
We do not claim that our products have medicinal properties and it is forbidden to replace any medical advice and treatments .