Description
Our multitasking oil will leave your beard soft, hydrated and healthy. It will add a touch of sophisticated style .
Our beard oil is extremely rich in vitamins and minerals that help in keeping your hair follicles healthy .
This lightweight oil gives a matte hold to your beard without being greasy .
Our unique blend of oils has been carefully selected to provide the ultimate in hydration and nourishment for your beard and skin.
It can be used as a pre-shaving or after-shaving oil too.
As a pre-shaving oil, drop into the palms of your hands, rub together and then massage into the skin . It will help soften your hair follicles, enabling the razor to shave smoother.
As a after-shaving oil ,It's important to apply an oil after you shave to help keep your skin hydrated and ready for next time. Shaving may cause even more irritation to your skin if not done correctly.
INGREDIENTS & PROPERTIES
We have chosen to enrich our product with fractionated coconut oil that has hydrating and protective properties that soothe irritated skin and improve beard's appearance.
Avocado oil is necessary for promoting beard growth , which is excellent for those seeking a beard with density.
Sweat almond oil is high in Vitamin E, which is vital for facial hair growth
Grapeseed oil is good for your beard due to its Vitamin E . By moisturizing the facial hairs, more shine is added .
Jojoba oil helps soften and smoothen rough hair and prevents your beard from looking unruly. Beard dandruff can be an itchy, uncomfortable experience. Jojoba oil helps relief from itching and flakiness too .
Rosemary essential oil  is great for moisturizing the skin underneath the beard .It is another oil that may show some benefits for beard hair growth.
Cedarwood essential oil and it's antibacterial and antifungal properties can help treat different dandruff and hair thinning types of woes, without feeling greasy.
KEY INGREDIENTS
Avocado oil
Jojoba oil
Sesame oil
Grapeseed oil
INGREDIENTS
Caprylic | Capric Triglycerides, Persea Gratissima Oil,  Prunus Amygdalus Dulcis Oil,
Vitis Vinifera Seed Oil, Sesamum Indicum Seed Oil , Simmondsia Chinensis Seed Oil ,
Rosmarinus Officinalis, Cedrus Atlantica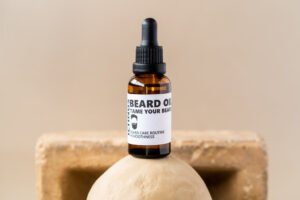 USE
Face .
All skin types . Every day use .
Especially suitable for unruly beard treatment .
HOW TO USE
Thanks to its light texture, only a few drops of oil are required for each application. 
Apply a small amount of the oil along your beard, paying attention to the skin as well.
Using your fingers or a comb will give a perfect result.
At Ichnos soap we do NOT use :
animal products
palm oil
parabens
sulfates
artificial colorants
Due to the handmade nature of our products, there may be a slight variation to the photos .
Please note that due to personal nature of our products, we are unable to accept return on orders .
We do not claim that our products have medicinal properties .
It is forbidden to replace any medical advice and treatments .